Batman Legends of the Dark Knight, Issues #1-34 (DC Comics, 1989-92)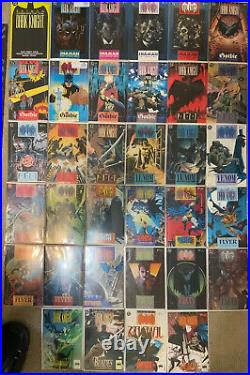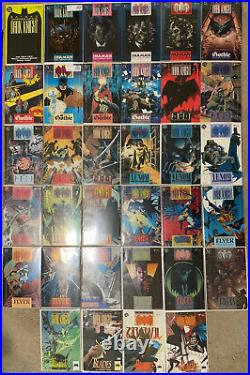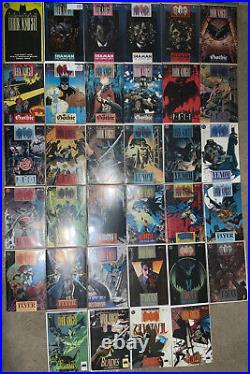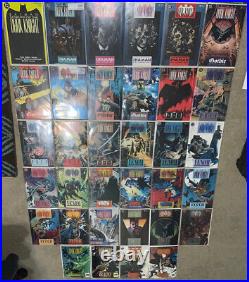 Batman Legends of the Dark Knight, Issues #1-34 (DC Comics, 1989-92). Unless otherwise noted, all issues are regular, direct editions. By Dennis O'Neil, Ed Hannigan, and John Beatty. Woodley quickly manages to kill the bounty hunter before falling off the cliff after a small fight with Wayne. Wayne's supplies are lost with Woodley, which nearly results in Wayne's death when a Native American with her grandfather discover him.

The grandfather is able to save Wayne's life by taking Wayne to his cabin and tells him a story on how the Bat gained its wings, while wearing a mask of a bat. After he recuperates and leaves, Wayne is warned by the granddaughter never to tell anyone the story. Upon his return to Gotham City shortly after, Wayne attempts to fight crime, but fails miserably.

That night after he fails, a bat flies into the room and reminds Wayne of the Native American's story from years earlier and so he decides to create a costume for himself and become Batman. Note: Legend of the Dark Knight #1 (the first issue of the "Shaman" storyline) was printed with several different colored covers as collector's items.

Issue #1 Variant Cover, Yellow. By Grant Morrison and Klaus Janson.

A man known as Mr. Whisper is killing off mob bosses one by one. The mobsters explain to Batman that he was a child killer over 30 years ago, and (similar to the film M) the mobsters had found and killed him when there was too much pressure from the cops over them. At the same time, Batman's investigation links Mr.

Whisper with a hideous event in Bruce Wayne's school days, a bargain reminiscent of Don Giovanni, and the Gotham City Cathedral. Note: Grant Morrison's second Batman story and first non-graphic novel Batman story. By Doug Moench, Paul Gulacy, and Terry Austin. Batman must contend with the brilliant but deranged psychiatrist Hugo Strange, who foments a massive smear campaign against him and attempts to uncover his secret identity.

Note: Retells the second meeting, in Post-Crisis continuity, between Batman and Hugo Strange (the first meeting would be told, years later, in Dark Moon Rising: Batman and the Monster Men). By Dennis O'Neil, Russell Braun, Trevor Von Eeden, and José Luis García-López.

When Batman fails to save the life of a young girl held for ransom, he decides to try a new experimental steroid-drug designed by her father called Venom. Note: First appearance of the "Venom" drug-steroid, later used by Bane. First Legends of the Dark Knight story to be referenced in-canon in the main Batman titles during Knightfall.

Barr, Bart Sears, and Randy Elliott. A drug addict is rescued from a fatal beating by Batman, which inspires him to organize a group of neighborhood vigilantes to take up Batman's cause.

However, his addled dreams convince him that he must supplant Batman. Leslie Thompkins discovers Bruce Wayne's secret identity. Note: Tells the previously-unseen story of Leslie Thompkins discovering that Bruce Wayne is Batman.

Also, it is the first Legends of the Dark Knight story arc to break the five issue format. By Howard Chaykin and Gil Kane. One of the officers who was injured during the siege against Batman in Batman: Year One resurfaces in a mechanized combat suit, targeting Batman for death.

Note: An unofficial sequel to Batman: Year One. Issue #27, Destroyer (Part 2 of 3). By Dennis O'Neil, Chris Sprouse, and Bruce Patterson. A miscreant is blowing up Gotham's newer buildings which, according to him, have overshadowed the old Gotham and his destruction leads to Art. Note: Part of a three-part crossover involving Legends of the Dark Knight, Batman, and Detective Comics.

First issue of the series to be set in the then-present day continuity and the first issue to crossover with the other Batman titles. Two-Face takes over a small island with plans to create a society in his own scarred image. After Bruce forces Alfred to take a vacation to Corto Maltese, he must rescue him from kidnappers.

By James Robinson and Tim Sale. While Batman is distracted with a serial killer who targets senior citizens, a new vigilante, the swashbuckling Cavalier, begins his own war on crime. Note: The Cavalier who appears in the story is a new character, previously never seen before, and has no ties with the more commonly known version of the character. This item is in the category "Collectibles\Comic Books & Memorabilia\Comics\Comics & Graphic Novels". The seller is "omegarobot" and is located in this country: US.

This item can be shipped to United States.
Unit of Sale: Comic Book Lot
Variant Type: #1, Yellow Cover
Tradition: US Comics
Vintage: Yes
Format: Mixed Lot
Language: English
Superhero Team: Batman
Personalized: No
Style: Color
Features: Boarded, Key Issue, Set
Artist/Writer: Denny O'Neil, Doug Moench, Grant Morrison, Howard Chaykin, James Ninness, Matt Wagner, Klaus Janson, Gil Kane, Tim Sale
Character: Batman (Bruce Wayne)
Cover Artist: George Pratt, Jose Luis Garcia-Lopez, Klaus Janson, Bart Sears, Gil Kane, Matt Wagner, Paul Gulacy, Tim Sale
Signed: No
Series Title: Batman: Legends of the Dark Knight
Ex Libris: No
Universe: DC Universe
Publisher: DC
Inscribed: No
Intended Audience: Viewer Discretion Advised
Story Title: See Description
Publication Year: 1989
Type: Comic Book
Issue Number: 1 - 34
Era: Copper Age (1984-1991)
Genre: Action, Adventure, Superheroes
Country/Region of Manufacture: United States