McFarlane WB 100 DC Multiverse Batman Ultimate Collection 6-Pack Ship same day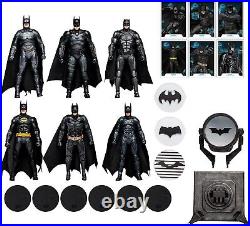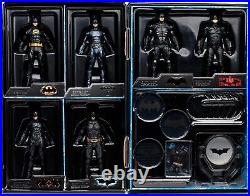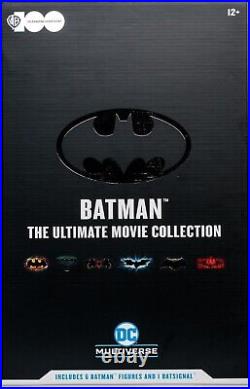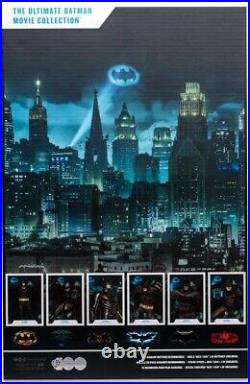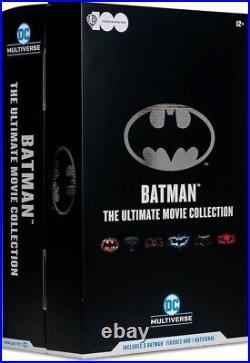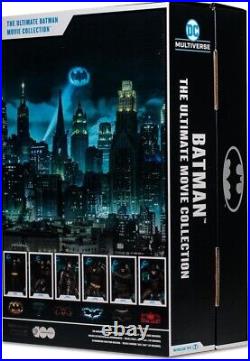 Incredibly detailed 7 scale figures based on the DC Multiverse. Designed with Ultra Articulation with up to 22 moving parts for full range of posing and play. Includes real light up bat signal with interchangeable discs and 6 bases. Batman figures are based on their looks from their films. Includes 6 collectible art cards with character art on the front and character biography on the back. BatmanT The Ultimate Movie Collection 6 pack includes SIX 7 scale Batman figures based on past Batman movies: Batman v Superman: Dawn of Justice, The Dark Knight, Batman and Robin, Batman Forever, The Batman and Batman (1989). Batman: Batman v Superman Dawn of Justice Fearing the actions of a god-like superhero left unchecked, Gotham City's own formidable, forceful vigilante takes on Metropolis's most revered, modern-day savior, while the world wrestles with what sort of hero it really needs.

And with BatmanT and SupermanT at war with one another, a new threat quickly arises, putting mankind in greater danger than it's ever known before. Batman: The Dark Knight With the help of Lieutenant Jim GordonT and District Attorney Harvey DentT, BatmanT sets out to destroy organized crime in Gotham CityT for good.

The triumvirate proves to be effective, but they soon find themselves prey to a rising criminal mastermind known as The JokerT, who thrusts Gotham City into anarchy and forces The Dark KnightT ever closer to crossing the fine line between hero and vigilante. Batman: Batman and Robin The Dark KnightT battles his greatest threats yet: cold-hearted Mr.

FreezeT, venomous Poison IvyT and the unstoppable brute known only as BaneT. BatmanT finds himself at odds with his crimefighting comrade RobinT, no longer satisfied with his role as a sidekick.

Freeze threatens to unleash a new ice age upon the citizens of Gotham CityT, the Dynamic Duo, now joined by the heroic newcomer BatgirlT, must learn to work as a team before Gotham City is put on ice. Batman: Batman Having witnessed his parents' brutal murder as a child, millionaire philanthropist Bruce WayneT fights crime in Gotham CityT disguised as BatmanT, a costumed hero who strikes fear into the hearts of villains. But when a deformed madman who calls himself The JokerT seizes control of Gotham City's criminal underworld, Batman must face his most ruthless nemesis ever while protecting both his identity and his love interest, reporter Vicki Vale. Batman: Batman Forever BatmanT faces off against two foes: the schizophrenic, horribly-scarred former District Attorney Harvey DentT, aka Two-FaceT, and The RiddlerT, a disgruntled ex-Wayne EnterprisesT inventor seeking revenge against his former employer by unleashing his brain-sucking weapon on Gotham City's residents. As the Caped Crusader also deals with tortured memories of his parents' murder, he has a new romance with psychologist Chase Meridian. Batman: The Batman The BatmanT is two years into his role as Gotham City's embodiment of vengeance -a nocturnal vigilante who strikes fear in the hearts of criminals. A reclusive scion of Gotham's richest family questioning his family's legacy, The World's Greatest DetectiveT stalks the streets at night employing a lethal combination of mental mastery, physical strength, and expert technology on his journey to becoming the City's symbol of hope. Due to the collectible and variable nature of the contents of this product it is not returnable.